About Widnes Vikings & Your Lottery
Each year, Widnes Vikings run a whole range of inclusive initiatives that give people from our community the chance to better themselves physically and also improve their mental fitness.
Our aim of attracting new people to the sport of Rugby League is evident through the delivery of schools, touch and walking rugby programmes, while we have also increased participation in the sport from within the town through the growth of our Women's team.
Learning Disability Rugby League also gives people who have always dreamt of pulling on the Vikings colours a chance to fulfil that ambition by removing the barriers that had once prevented this from happening. Our LD Super League team have taken part in festivals across the country because of this, which even included being a part of the launch event at the 2019 Magic Weekend, where they had the chance to play at the iconic venue of Anfield.
Integral to the club is the opportunities provided to young people in our local community in beyond. This is why we have been providing Sports Camps during half-term and school holidays for children, including those who are eligible for free school meals, and providing all children with a free lunch as well as nutrition sessions and the chance to try new sports. The children learn from our inspirational staff and coaches, as well as first-team players who provide coaching at all of our camps on the very pitch the Vikings play on.
Everytime you play you help fund our
Community and Pathway programmes.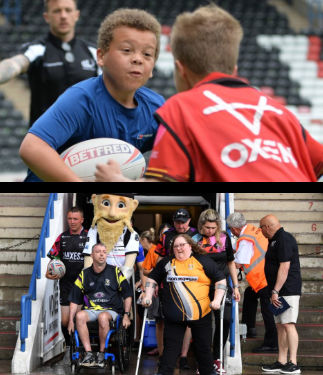 You could get your hands on the
£10,000 Jackpot prize,
whilst helping
good causes like ours at the same time.
Why everyone's a winner
By entering Your Lottery, each month, 60% of your stake goes directly towards helping run Widnes Vikings' Community and Pathway programmes.
Even though you are playing to win an excellent financial prize, every time you play Your Lottery, you are having a positive impact on thousands of people's lives.
Be in with a chance of the £10,000 Jackpot!
Playing Your Lottery with Widnes Vikings
Every time you play you will be contributing directly to the funding of Widnes Vikings' Community and Pathway programmes, as well as being in with a chance of winning Your Lottery £10,000 jackpot, there are also thirteen monthly prizes from the £1,600 prize pot.
Where your stake goes
60% of your stake goes directly to Vikings
20% is payable in winners' prizes
20% used in administration of the lottery
Compared with other lotteries
25.5% Health Lottery goes to good causes
28% National Lottery goes to good causes
32% Postcode Lottery goes to good causes
What we can do with the funding
£10 buys the necessary equipment for our elderly participants to take part in a weekly Walking Rugby session.
£10 buys refreshments for our monthly Chemics Café - an initative that supports people suffering from Dementia.
£20 provides a primary school group with a 60 minute stage-appropriate Rugby League session.
£20 covers the costs for one of our Learning Disability Rugby League players to play during half-time at Super League 'Magic Weekend' game.
£30 buys the use of a pitch and changing rooms to allow up to 100 Year six and seven boys to take part in a weekly Development Squad session.
£30 buys training kit for one of our Womens players for a full season.
£30 buys the software for one of our Scholarship or Academy players to give them access to individual footage and performance data to support their development for one year.